Maisy
250px
Maisy from Dani's House

Maisy

Maisy

Gender

Female

Age

10

Species

Human

Relatives

Ruby (older sister)

Introduced in

Season 4 Episode 6

Latest Appearance

No information

Portrayed by

Millie Innes
Maisy
(Millie Innes) is a character who was first introduced in Series 4 Episode 6 (The Big Grapple).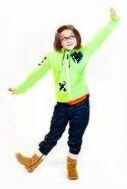 She is Ruby's younger sister, who is very similar to Dani's brother Max. Maisy likes to plot schemes to get her own way or to get even with her rival, Max. She is put across as "weird" to the cast.

Ad blocker interference detected!
Wikia is a free-to-use site that makes money from advertising. We have a modified experience for viewers using ad blockers

Wikia is not accessible if you've made further modifications. Remove the custom ad blocker rule(s) and the page will load as expected.