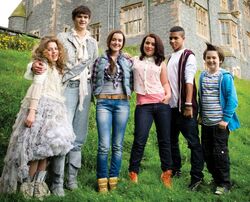 This page is a full list of episodes of the CBBC television series, Dani's Castle which was first broadcast on CBBC Channel on the 17 January 2013.
miIt so far consist of one series with thirteen episodes. On Friday Download, Shannon Flynn (Caitlin) confirmed a second series for the show.
A third season of Dani's Castle was announced by Richard Whisker, in January 2015. CBBC announced in February 2015, that, they had picked up the third series and , filming would start in May 2015, to premiere in August 2015. A spokeperson from CBBC announced in late March 2015, that, Dani Harmer will not return. Harmer confirmed this on her Twitter page in June 2015, and the show continued without her. The third series aired on CBBC on 28 July 2015 and scored poor viewings due to Harmer's departure. The series got low ratings every week, up till, 15 December 2015, when it scored under 0.3 viewers. The final ever episode of Dani's Castle was thought to be the 2015 Christmas special, 'It's a Wonderful Afterlife'.
The series was originally renewed for a fourth series in January 2016, with Dani Harmer returning, and filming starting in August 2016, to air in September 2016. But, according to CBBC, the series was dropped and plans for a fourth series was cancelled. Shannon Flynn announced via Twitter that the series will not be returning for a fourth series.
Series 1
Edit
Series 2
Edit
Series 3
Edit
'The Ghostel'
'The Dead Headz'
'That sinking feeling'
'Truth or Scare'
'Ghost Swappers'
'An Inspector Calls'
'Groundbog Day'
'Midsummer Night's Nightmare'
'Stupid Cupid'
'Choc Horror'
'Ghostwriter'
'It's A Wonderful Afterlife (2015 Christmas Special)
Ad blocker interference detected!
Wikia is a free-to-use site that makes money from advertising. We have a modified experience for viewers using ad blockers

Wikia is not accessible if you've made further modifications. Remove the custom ad blocker rule(s) and the page will load as expected.