Coordinator Zang and Zark
are two green aliens who are travelling together across the universe.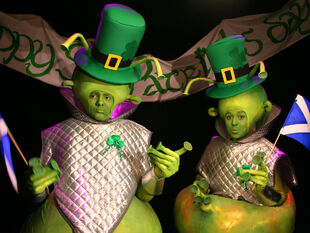 They are totally mad about their favourite human show "Dani's House", pretending they are on a mission to find out more about humans, but that's an excuse to watch it.
They often make mistakes in day to day thoughts that humans think :facial hair is added as a matter of importance which results in a competitition and Zark completely covered in orange hair!
They occasionally have quarrels but say they are very calm and soothing but argue when they even don't know it!
Zang
Is the most mature alien of the pair,he's very arrogant,constantly believing he is right other than Co-Ordinator Zark.He makes up competitions ALL the time which appears very childish even though he's maturer than Zark.He sees to be like a brother to Zark even though they don't act like it.He is portrayed by Harry Culverhouse(who used to be Toby in series 1).
Zark
Is the most immature of them all!She is COMPLETELY obsessed with Dani and is her Number 1 fan(so is Zang).She shows this complete obsession with Dani after she's the one that transports them down to Dani's House in Series 2 ,Episode 11 "Alien Invasion.She is portrayed by Dani Harmer.
Ad blocker interference detected!
Wikia is a free-to-use site that makes money from advertising. We have a modified experience for viewers using ad blockers

Wikia is not accessible if you've made further modifications. Remove the custom ad blocker rule(s) and the page will load as expected.