The topic of this page has a wikia of it's own: CBBC wikia.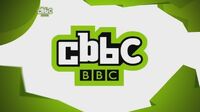 CBBC (a contraction of the original name, Children's BBC, short for Children's British Broadcasting Corporation) is the brand name used for the BBC's children's television programmes, and currently specifically refers to those programmes aimed at children.
Prior to being refocused solely on the 6-10 group the CBBC/Children's BBC name was used to refer to all of the BBC's output for under-10s; the tightening in focus followed the launch of dedicated sub-brands for preschool-age children (CBeebies) and later for teenagers (BBC Switch).
From 2010, programmes of CBBC, were broadcasted on BBC One. This came to an end in Early January 2013, prior to complaints.
Between 2009 and 2014 CBBC suffered from a huge budget, and it was announced on 23 January 2014, some shows of the channel will be replaced, in order to pay the huge budget. On 27 July 2014, it was announced the budget had gone smaller.
In November 2014, it was revealed that CBBC content would be returning to BBC Two. It was also announced, on 31 December 2016, that, old CBBC shows, such as , Dani's House, The Sarah Jane Adventures and a few others, would be moved to BBC Two in Late August 2017.
On 2 January 2016, it was announced CBBC is due to change their logo, inspired by the new BBC Three Logo. On 14 March 2016, CBBC changed their logo, with the letters being inspired. The new logo received some nasty complaints on BBC Online, and a campaign had started on 5 August 2016, to bring back the old 'CBBC' logo. This campaign ended on 25 December 2016. It was revealed on 15 March 2016, that, old CBBC shows such as Dani's House, Dani's Castle, Hank Zipzer and a few others, will be showed once a year. A spokesperson from BBC and CBBC stated, that, the statement wasn't true and that those shows will be shown every day.
CBBC will change logo again in 2020. It was announced on 19 January 2017, that, CBBC will change their logo back to the old one in late December 2017.
Programming 
Edit
Creeped Out(2017-present)