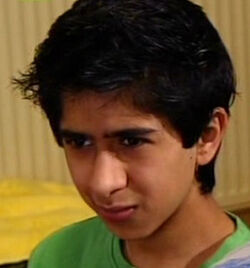 Benjamin "Ben" (James Gandhi) is Max's best friend who is of below-average intelligence.
He is Max's sidekick and often spends a lot of time at Dani's house. Also he is hilarious to the audience when he does says something weird! Despite having below-average intelligence, he tends to think up Max's evil plans, but Max always pretends it was his idea, at which point Ben praises Max.
Ben did not appear in Series 3 Episode 3 (Grandad and the Emo of Doom) as Gandhi was not available for episode filming. In series 4, he is shown to be more intelligent and more capable of going solo as Max does not star in a lot of episodes he is in.
Ad blocker interference detected!
Wikia is a free-to-use site that makes money from advertising. We have a modified experience for viewers using ad blockers

Wikia is not accessible if you've made further modifications. Remove the custom ad blocker rule(s) and the page will load as expected.