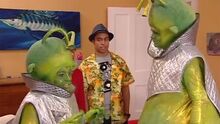 Alien Invasion is the eleventh episode of the second series which was first broadcast on CBBC on 14 December 2009.
Dani is understudying the part of a witch in Macbeth: The Musical, which means Jack and Sam get the job of ensuring little brother Max does not cause chaos.
Dani's most loyal viewers, the aliens, have got bored of never getting to meet their heroine and her pals and have decided to teleport down to Earth, where they soon find themselves embroiled in Max's scheme to win the 10,000 pound reward from the UFO Society.
Ad blocker interference detected!
Wikia is a free-to-use site that makes money from advertising. We have a modified experience for viewers using ad blockers

Wikia is not accessible if you've made further modifications. Remove the custom ad blocker rule(s) and the page will load as expected.